Hardwood floor refinishing in Boston MA
Superior Quality of Materials
Your Satisfaction is Guaranteed
Expertise and Knowledge Since 1927
SERVES GREATER BOSTON MASSACHUSETTS
HARDWOOD REFINISHING:
Quality refinishing is just as important as choosing the proper hardwood flooring. The end product is a direct reflection of the sanding and refinishing process. That is why at Duffy Floors we take the extra step necessary to guarantee your satisfaction.
Wood floor refinishing starts with sanding the hardwood floors to remove the old finish, stripping the wood of polyurethane, wax, or stain.
The sanding process can remove (1/32"to 1/16") of the wear layer, stripping the wood of polyurethane, wax, or stain. The floors may look like brand new, upon completion of the entire process.
The refinishing procedure Duffy Floors uses involves sanding the floors with three different grits of sandpaper.
After the preparation is complete we hand sand all the edges and then use a circular buffing machine to ensure a smooth surface.
After the sanding is complete, the floors are vacuumed and tack ragged to remove any superficial dust. Dust is usually minimal because Duffy uses dustless refinishing equipment in the sanding process.
The final steps in the process will depend on the customer's preference. The last steps to be completed are the application of stain and polyurethane. Or if the customer prefers, we simply apply polyurethane.
In some cases we perform more complex procedures to produce the desired outcome. Click here to learn about stains, dyes and color options for your wood floors.
DUSTLESS REFINISHING AND DISCING:
Dustless sanding and discing is provided for all our customers as a standard Frank H. Duffy procedure.
Dustless floor sanding incorporates the use of a 2 stage Hepa vacuum system that is directly attached to the sanding or buffing machine. Our units are portable and easy to use in homes, or high-rise buildings.
The vacuum system eliminates all of the airborne dust and most of the heavy dust created by the sanding machines. There is a minimal amount of dust that is created. Our dustless systems provide a higher quality end product by controlling all airborne particles. As well as leaving less of a cleanup process after floor preparation.
DISCING AND RE-COATING:
Discing and re-coating is sometimes referred to in the industry as a "buff and coat". The reason its referred to that way is because a buffing machine is used. The procedure only addresses the top layer of polyurethane on your floor.
Kitchens are typically a room in our homes where we see heavy traffic. Often kitchens are in need of a disc and coat because of scratches from chairs and stools. It is important to note that deep scratches or dents in a floor such as high heel marks will not be removed with a disc and coat.
Also, if there have ever been any cleaning products containing wax or silicone, i.e. Murphy's oil soap, Endust, Mop and Glow, etc., our finish may not dry properly, producing high and low sheen. You may also experience some peeling over time due to the adhesion of our polyurethane to the existing surface. The only way to overcome this problem is to buff and recoat again or refinish the floors.
Discing and recoating will give renewed beauty to your floors and will extend the life of your floors before a full sanding is needed.
Get A Free Estimate Of Your Hardwood Floor Project
Fill in the form below or call us 781-395-3418
From our Hardwood Flooring Youtube Channel
Hardwood Floor Refinishing – Staining Playlist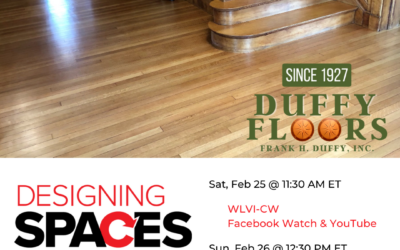 Missed the segment? Watch it here ! Saturday 2/25/23 at 11.30 am  & Sunday 2/26/23 12.30 pm - Duffy Floors was in the news - Designing Spaces Local Boston Edition TV ShowWe were selected to be...
read more
FREE IN HOME ESTIMATE
(During Covid-19 Virtual Consultation)
Get A Free Estimate
On Your Hardwood Floor Project
Our Location
369 SALEM STREET, MEDFORD, MA 02155
Open Hours
M-F: 7am - 4pm, S-S: Closed