Hardwood floor maintenance in Boston MA
Superior Quality of Materials
Your Satisfaction is Guaranteed
Expertise and Knowledge Since 1927
SERVES GREATER BOSTON MASSACHUSETTS
HARDWOOD FLOOR MAINTENANCE:
The key to enjoying beautiful hardwood flooring is proper maintenance. Proper maintenance is necessary for all hardwood flooring regardless if the product was prefinished at the factory or finished at the installation site. The no-maintenance hardwood floor does not exist. The maintenance procedures may vary with the type of finish or wax used on the hardwood floors.
Preventive maintenance is the most important requirement for the long-term performance and natural beauty of your hardwood floors. The following outlines the key preventative maintenance points:
PREVENTIVE MAINTENANCE
1. Use protective walk off mats at the exterior doors to help prevent sand and grit from walking onto the floor. Gritty sand is flooring's worst enemy.
2. Install proper floor protectors on furniture (felt pads) used on hardwood floors. Protectors will allow chairs to move easily over the floor without scuffing. Clean the protectors on a regular basis to remove any grit that may have become imbedded in the protector.
3. Vacuum regularly. When the household carpets are vacuumed, vacuum the hardwood floor with a brush attachment. Sweep on a daily basis or as necessary.
4. Never wet mop a hardwood floor. Excessive water causes wood to expand possibly damaging the flooring. The proper procedure is to use a well wrung out cloth or a Wood Floor Cleaning Kit. Food and liquid spills should be cleaned up in a timely manner.
5. We recommend a recommend using the Bona Wood Floor Cleaner (Not Polish) for the maintenance of your wood floors.
6. Never use any cleaning products containing wax or silicone, i.e. Murphy's oil soap, Endust, Mop and Glow, etc., These products can dull the finish and prevent the polyurethane from adhering with future coatings. When dusting avoid overspray when polishing your furniture. Always apply the furniture polish to the dusting cloth and avoid contact with flooring. Remember the furniture polishes contain wax.
7. Keep high heel shoes in good repair. Heels that have lost their protective cap thus exposing the fastening nail will exert over 8,000 pounds per square inch of pressure in a floor! That's high enough to damage hardened concrete.
8. Consider a buffing and re-coating every 3-5 years as a maintenance in heavily used rooms such as your kitchen. This process is a surface treatment and is best to use on your floors when there are fine scratches and light dirt on your floors. This process will give renewed beauty to your floors and will extend the life of your floors before a full sanding is needed.
Get A Free Estimate Of Your Hardwood Floor Project
Fill in the form below or call us 781-395-3418
Hardwood Floor Maintenance Products We Recommend
Due to the several requests from customers regarding hardwood floor maintenance products, we have decided to participate in the Amazon Affiliate Program in order to make available through our website the care items we recommend. As an amazon affiliate, we receive a small commission from Amazon in exchange for this service.
From our Hardwood Flooring Youtube Channel
Hardwood Floor Maintenance Playlist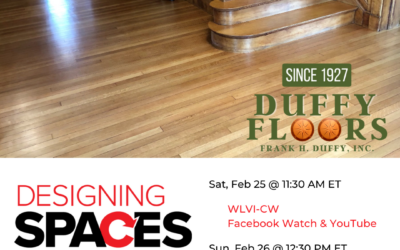 Missed the segment? Watch it here ! Saturday 2/25/23 at 11.30 am  & Sunday 2/26/23 12.30 pm - Duffy Floors was in the news - Designing Spaces Local Boston Edition TV ShowWe were selected to be...
read more
FREE IN HOME ESTIMATE
(During Covid-19 Virtual Consultation)
Get A Free Estimate
On Your Hardwood Floor Project
Our Location
369 SALEM STREET, MEDFORD, MA 02155
Open Hours
M-F: 7am - 4pm, S-S: Closed