Hardwood floor installations and repairs in Boston MA
Superior Quality of Materials
Your Satisfaction is Guaranteed
Expertise and Knowledge Since 1927
SERVES GREATER BOSTON MASSACHUSETTS
HARDWOOD FLOOR INSTALLATION
Frank H. Duffy Inc., Wood Flooring Specialists work hand in hand with customers to ensure the end product meets or exceeds their specifications. Every hardwood floor installation job is as unique as its customer's style and needs.
Duffy Floors installs a variety of woods from traditional solid hardwood, solid pre-finished hardwood floors, and some engineered hardwood floors. There are many different types of hardwoods to choose from as well as different widths and lengths which are sure to meet your every need.
Hardwood Flooring Installation Procedure
In general, the hardwood floor installation process is completed on a prepared subfloor. We install the floors in accordance with the NOFMA/NWFA standards (National Oak Flooring Manufacture's Association/National Wood Flooring Association).
Following the NOFMA/NWFA protocol helps to ensure that your hardwood installation exceeds the industry standard.
High-Quality Hardwood Flooring Material
The quality of a flooring job is only as good as the flooring which is being installed. This is why when installing a traditional hardwood floor we only install flooring which is classified as clear, first grade or select and better. The prefinished flooring we install is a solid hardwood product and the engineered flooring we install has 9 plys and the thickest wear layer in the industry.
The installation of your floors can be a traditional linear design or an intricate pattern. One way to enhance a room is to install a custom border pattern using one or more different species of wood. Some customers install medallions or inlays. Medallions come in an assortment of sizes and styles. These medallions or inlays can be as complicated as a picture of a bird in flight in a natural landscape, or as simple as a repetitive geometric pattern. Either way, a unique personal touch is added to your room with a custom hardwood installation.
Your hardwood flooring project can bring your room to life. Working closely with Duffy Floors in the installation process, you are sure to create an ambiance unique to your home or office.
Get A Free Estimate Of Your Hardwood Floor Project
Fill in the form below or call us 781-395-3418
From our Hardwood Flooring Youtube Channel
Hardwood Floor Installation And Repairs Playlist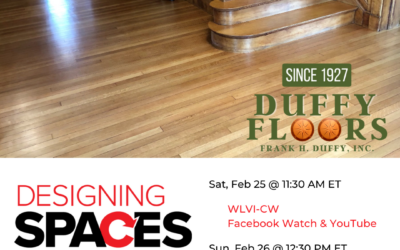 Missed the segment? Watch it here ! Saturday 2/25/23 at 11.30 am  & Sunday 2/26/23 12.30 pm - Duffy Floors was in the news - Designing Spaces Local Boston Edition TV ShowWe were selected to be...
read more
FREE IN HOME ESTIMATE
(During Covid-19 Virtual Consultation)
Get A Free Estimate
On Your Hardwood Floor Project
Our Location
369 SALEM STREET, MEDFORD, MA 02155
Open Hours
M-F: 7am - 4pm, S-S: Closed